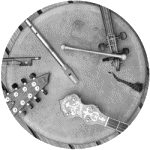 History
August 1993: Blackthorn founded by Anders Clarhäll, Fredrik Jakobsson and Henrik Norbeck.

Autumn 1994: Gustaf Eriksson and Jörgen Sälde join the band.

Spring 1995: we record our first CD.

October 1995: first CD released.
Played at Café Mix in Stockholm. The concert was recorded by P2 Swedish Radio. Kevin Finucane substitutes for Anders.

April 1995: Anders back with the band.

September 1997: Gustaf moves to Scotland and leaves the band.

Autumn 1998: played at FolkoFolk at Münchenbryggeriet in Stockholm.

Spring 1999: played at a pub at Nybrokajen 11 after a Boys of the Lough concert.

December 1999: played at the festival "Zampogna d'oro" in Sicily.

January 2000: Karin Johansson joins Blackthorn as a new fifth member.

Spring 2000: played again at a pub at Nybrokajen 11, this time after Altan's concert.

Summer 2000: played at the festival "Musik vid Dellen"

November 2000: played at Stallet in Stockholm

Spring 2001: played at Mix Musikcafé in Stockholm again, recorded by Swedish Radio P2 again.

Summer 2001: played at the Korrö festival.

November 2001: made a music and dance show together with The Irish Dance Project.

Spring 2002: a lot of work with the new CD...

December 2002: our new CD "swift and sloe" released!